You can register most .LAW domain names for less than you'd spend on a quick lunch with a client, but in some cases, the name you set your mind on is priced at a premium. They say all good things come at a price, but why exactly are some domain names so much more expensive than others?
In the following, we'll explain the 101 of the world of Premium Domain Names.
Before we jump into the details regarding premium domain names and why they might just be worth the hefty investment, let's take a look at what a domain name actually is. The domain you register is the address of your website and a digital piece of real estate. You can register an endless combination of letters, numbers, certain symbols, and choose from thousands of different domain extensions. It's up to you if you decide on one of the legacy domain extensions like .COM or .NET, register a Country Code Top-Level Domain (ccTLD) to show off a certain connection to a country or region, or opt for a .LAW that right away verifies your website's purpose.
The million dollar question now is,
what makes certain domain names qualify as a premium?
Inherently, demand makes a domain name "premium." They are simply more sought after, and in the end, the perfect domain name is worth whatever the buyer is willing to pay for it.
Most premium domain names are short (mostly 3 to 4 letters or a single word), simple, and easy to remember. In general, domain names are considered valuable if they cater to a specific niche or fulfill certain requirements.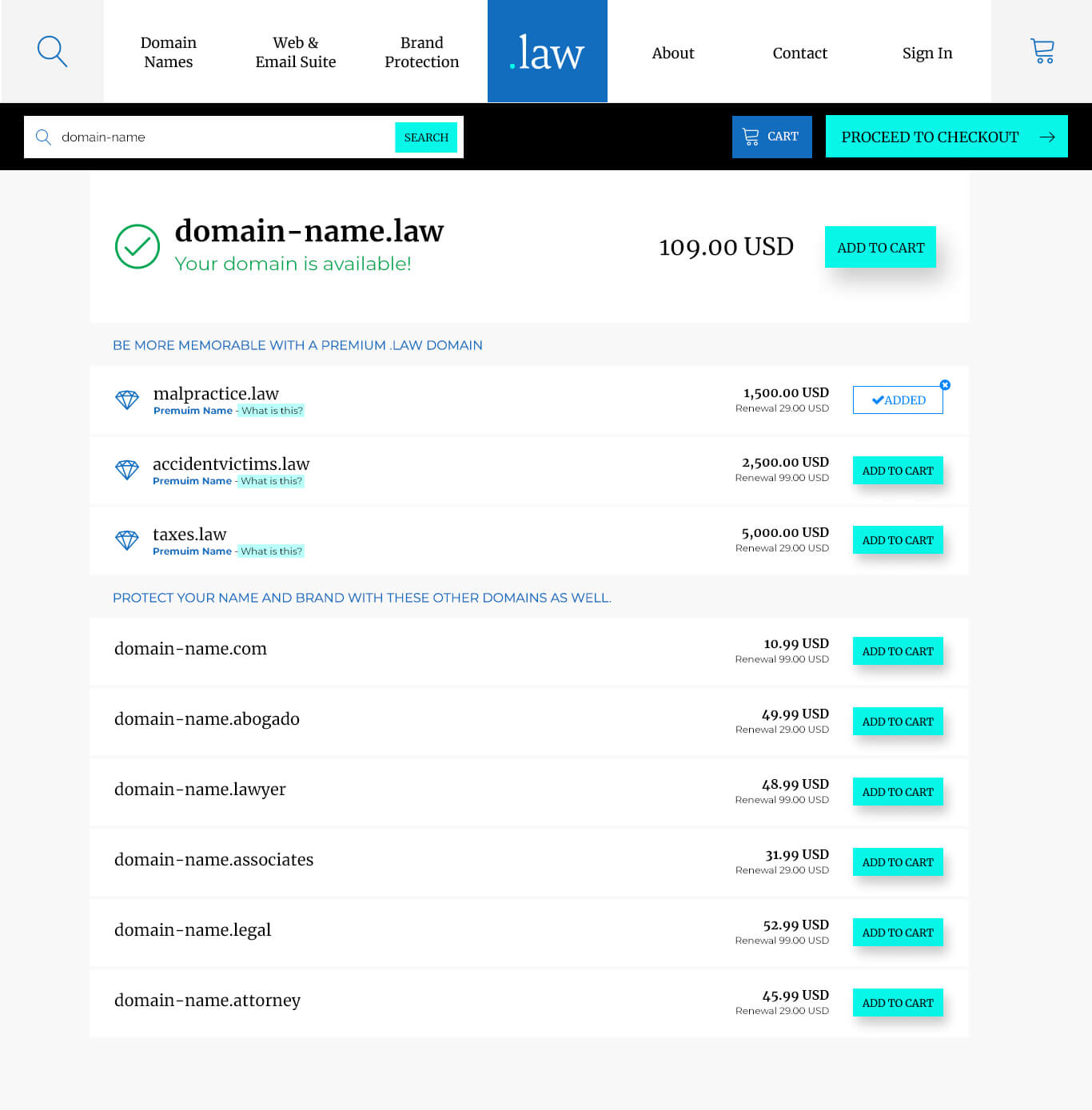 Thousands of domain names are bought and sold every day, making registering a domain name for yourself or your legal practice not just a nice thing to have but, more importantly, an essential move towards brand protection. With your competition increasing at a phenomenal rate, law firms are looking for a unique handle that adds additional value to an overall branding strategy to stand out of the crowd. The premium web address offers the exclusivity needed to establish a distinguished online presence and help you build a strong brand.
A premium domain name is a long-term investment in a web address that enables your firm to establish authority in the legal field and target the market you cater to.