In the realm of modern legal practice, effective communication is paramount. This year, we recommend that lawyers invest their time in an email marketing strategy to engage clients, prospects, and peers. Email marketing serves as a versatile channel to disseminate critical information, such as updates on legal services, new regulations, and important announcements. This article aims to provide legal professionals with an in-depth comparison of Gmail's email marketing tools and Mailchimp, allowing you to make an informed choice tailored to the unique needs of the legal sector.
Need to familiarize yourself with Gmail's Email Marketing Tools for Lawyers? Gmail's email marketing capabilities have evolved, and it's essential for lawyers to understand these tools fully.
Email Templates for Legal Communications
Lawyers often wear many hats, but few would consider themselves graphic designers. Therefore, selecting an email marketing tool that offers professionally designed templates is crucial. Gmail offers 12 email templates with placeholders for text, images, buttons, and links. Customization options include the ability to upload your law firm's logo, select a primary color, and choose from ten different fonts. Additionally, you can include a footer with essential contact information, as often mandated by email marketing regulations.
In contrast, Mailchimp provides access to hundreds of customizable email templates. The platform boasts drag-and-drop technology for advanced customization, enabling lawyers to add dividers, surveys, code, apps, and product listings. Furthermore, Mailchimp employs AI-driven creative assistance to fine-tune every element of your email template, ensuring alignment with your law firm's brand identity.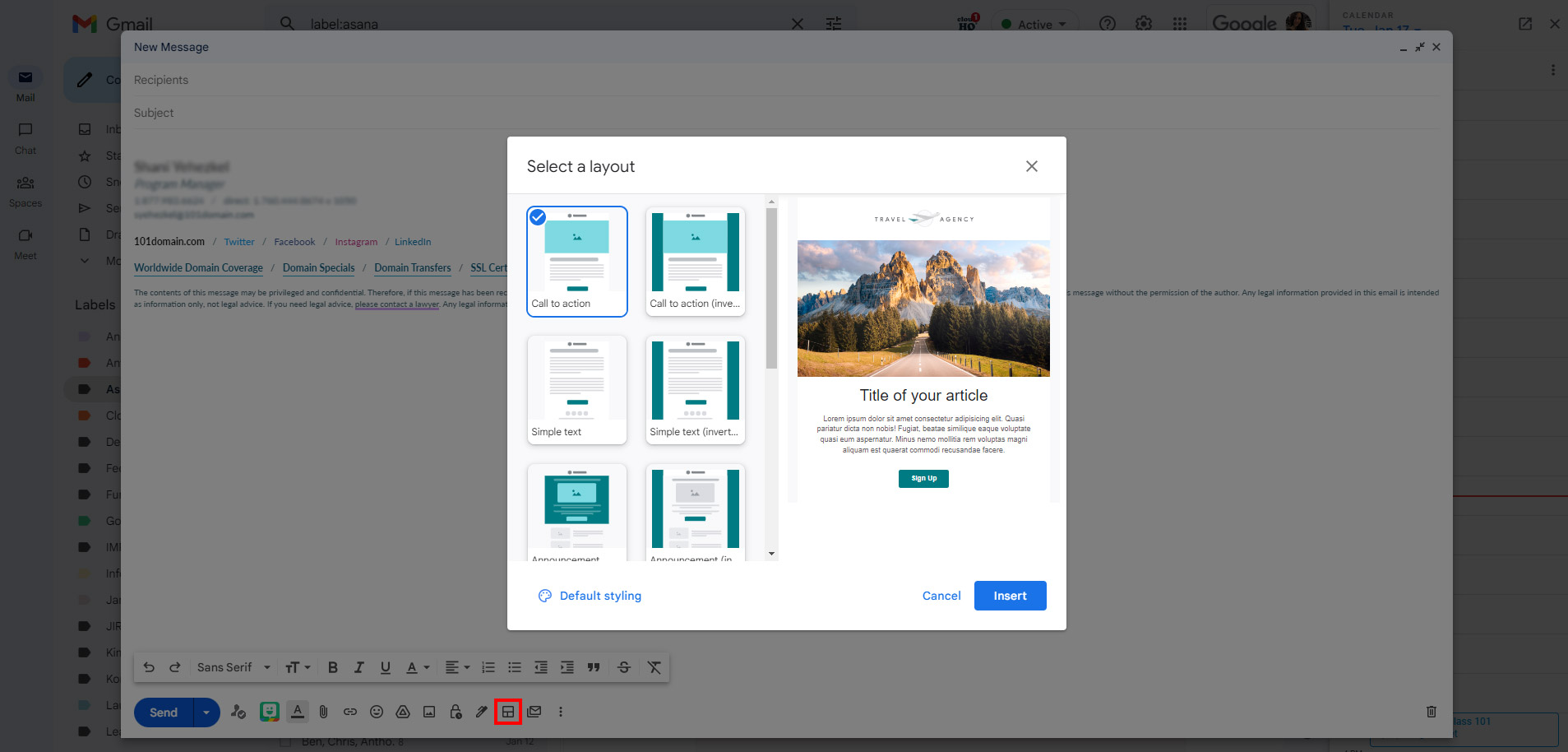 Personalization in Legal Email Marketing 
Personalization significantly enhances the engagement levels of legal email marketing campaigns. Gmail's email marketing tools include merge tags such as First name, Last name, Full name, and Email address. Gmail draws from Google Contacts to personalize emails, replacing merge tags with recipients' actual data. Customization options are also available for instances where Google Contacts lack certain information.
Mailchimp offers an array of personalization options for legal professionals, including dynamic content, merge tags, and the ability to send emails based on recipients' time zones. Personalizing legal communications is vital for establishing trust and relevance among your audience.
Unsubscribe Compliance in Legal Email Marketing
Legal regulations mandate that commercial emails include an unsubscribe option. Gmail's email marketing feature, Multi-Send Mode, automatically adds a unique subscribe link to the bottom of each email. When a contact unsubscribes, they are excluded from future multi-send emails. Email notifications are sent when a contact unsubscribes, ensuring compliance with unsubscribe regulations.
Mailchimp must legally include an unsubscribe link in every email campaign sent through its platform. Legal practitioners can also customize the unsubscribe process, allowing for feedback collection and optional goodbye emails.
Pricing for Legal Email Marketing
Comparing pricing between Gmail and Mailchimp is complex. Mailchimp's pricing depends on the number of contacts and emails sent, with a free plan available for up to 500 contacts. Gmail's email marketing tools are included with Google Workspace subscriptions, making it an attractive option for lawyers already using the platform.
Conclusion
Mailchimp offers robust features for advanced email marketing, making it an excellent choice for legal professionals seeking sophisticated capabilities. However, the platform's pricing can escalate as your contact list grows.
Gmail's email marketing tools are attractive for legal practitioners, especially those already using Google Workspace. While Gmail's capabilities may seem limited in comparison, it provides an excellent starting point for lawyers new to email marketing. Plus, it's included with most Google Workspace subscriptions, eliminating the need for additional third-party tools.
In the legal profession, effective email marketing can enhance client relationships, expand your network, and promote your legal services. Whether you choose Gmail or Mailchimp, ensuring compliance with email marketing regulations is essential in maintaining professional integrity. Make an informed decision based on your law firm's unique needs and existing technology infrastructure.